Your Guide to Accredited Online Schools
Online Schools is your comprehensive introduction to an online education. With increased availability and an ever-expanding range of courses to choose from, online enrollment is growing at an astounding rate. From elementary schools to the best online colleges, online schools vary in terms of methodology, cost, and quality.
Our guides help you find the right program for your needs. We explore the factors motivating millions of students to enroll in online courses, walk you through criteria to consider before enrolling, and offer tips to help you get started. We have guides for every stage of online learning, from K-12 to graduate school, and feature the most current assessment of online degrees and schools available.
Explore Our Guide to Online Schools By Grade Level
Online Schools by State
Online schools are constantly expanding across the U.S. Find the best program for your needs through our comprehensive directory of local online K12 schools and colleges.
Find An Online School By State
Online Graduate Programs
Online graduate schools make it possible to advance in your field while still working full-time. Programs like business administration, nursing, computer science, education, and social work draw large enrollments, but there are programs to choose from across a range of fields. Browse our comprehensive online graduate programs guide and search for schools using our database.
K12 Online Schools
Students of all ages can extend their learning through K12 online schools. Benefits include an earlier introduction to technology, a chance to strengthen challenging skills, and the opportunity to take college credit courses. If your child suffers a chronic illness, has been injured, or works better at home, online elementary school, middle school, and high school may be the answer.
Guide to Online Schools
Online schools at every level, from online elementary schools to the best online colleges, vary in delivery format. It's important to fully understand what type of online education you or your child is jumping into before enrolling in a program.

Choose a topic below.
Fully Online or Blended Programs
The blended format is a mix of online courses and in-person coursework. Online high school students may pursue a blended online school to earn extra AP credits, for example, while college students may supplement their education with virtual courses.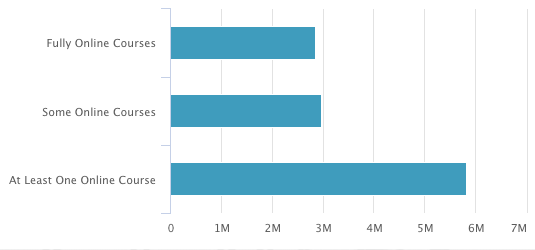 Types of Online Learning
Synchronous courses require you to meet online at the same time as your professors and fellow students, thus enforcing a set schedule. Asynchronous courses require no scheduled meetings; you decide when you complete your coursework and when you interact online.
Public or Private Schools
Many states provide public online schools at the K12 level that are fully or mostly funded. These schools are often free of charge and accredited. In higher education, over 71% of schools are considered public and not-for-profit. They typically offer lower tuition rates for in-state residents.
While the price of a private school education may exceed that of public online colleges and universities, many private schools offer other amenities that are worth looking at. Some of the best online schools are able to specialize in an area or provide better access to the newest facilities and smaller class sizes.
Accreditation
Arguably, accreditation is the most important factor to consider when comparing your academic options. Accredited online schools have been thoroughly evaluated and determined to be operating with their students' best interests in mind. Here are the two most common types of accreditation:
Regional accreditation is typically awarded to academically oriented, not-for-profit colleges and universities. There are six regional accreditation organizations that are recognized by the U.S. Department of Education and the Council for Higher Education Accreditation.
National accreditation is usually reserved for vocational academies, technical schools, and for-profit colleges and universities. Recognized organizations that award national accreditation are further divided into three groups:

Programmatic (or pertaining to a specific field of study)
Career-related
Faith-related
Financial Aid and Scholarships
Approximately 80% of first-time, full-time students at four-year institutions receive some kind of financial aid. Whether attending an online college or an online graduate school, it's important to be aware of your financial aid options. Browse our guides and learn more about applying for scholarships, grants, and loans.
Resource Library
Our suite of online learning resources provides a foundation for success for both new applicants and currently enrolled online students. Find academic support, resources to help you master online learning, and guides for students with a range of needs.
Student Interviews
Still unsure about online learning? Read our collection of interviews with online students.
Read Student Interviews
Visual Academy
Visual Academy is Online Schools' novel attempt at furthering education and creating a hunger for more knowledge through the use of visual learning techniques.
Visit Visual Academy
About Us
We strive to provide students interested in earning an online degree with the most accurate, comprehensive, and accessible information.
Learn More